Scoring a regional first, Logiventures (Pvt.) Ltd, Sri Lanka's leader in project logistics successfully relocated an entire 24 Mega Watt power plant from Colombo to Karachi, Pakistan. The project consisted of an overland transportation component and a shipping component, both of which required specialised skills and equipment. The land segment of the mega move required Logiventures to lift and handle four 108 tonne diesel engine generators located in Horana with the use of synchronised hydraulic jacks and stools and beams to carry the special weight prior to moving it 65km overland to the Colombo Port. This required highly specialised equipment and coordination, including the use of a multi-axel trailer and heavy duty puller.
"Based on our initial assessments we realised that we needed a trailer and a powerful puller as the locally available equipment was not fit to handle massive loads of this type. The hydraulic multi-axle trailer owned by Logiventures is the first of its kind in Sri Lanka," Director of Logiventures, Mr. Janitha Jayanetti said.
In this phase, the Logiventures project team coordinated with the Ceylon Electricity Board (CEB), Sri Lanka Telecom and the Police Department, to safely escort and navigate the cargo, through narrow corridors from the site in Horana to the Colombo Port over a span of 65km consisting of four days for each return-trip. The entire operation was monitored through advanced GPS and equipment condition system, via the command centre located at the project office.
"In the past such mega-scale projects were handled by experienced and well-equipped international project logistics providers, which were in most cases extremely costly. However in this situation, Logiventures was able to successfully win the bid upon comprehensively convincing the client of its experience and capabilities," Mr. Jayanetti said.
In the shipping segment of the mega move, Logiventures,a member of the Global Projects Logistics Network, chartered a heavy-lift vessel, which was capable of transporting the oversized and over-weight cargos.
During the entire operation Logiventures, coordinated and executed the mega-scale project with the use of 28 trade specialists and experienced professionals, which resulted in one of the largest incident-free logistics projects ever handled in Sri Lanka, by a local entity with their own equipment and personnel.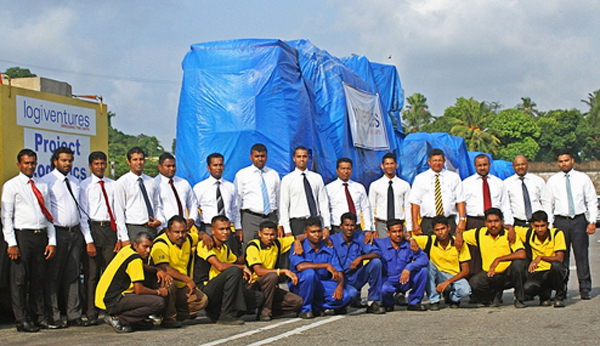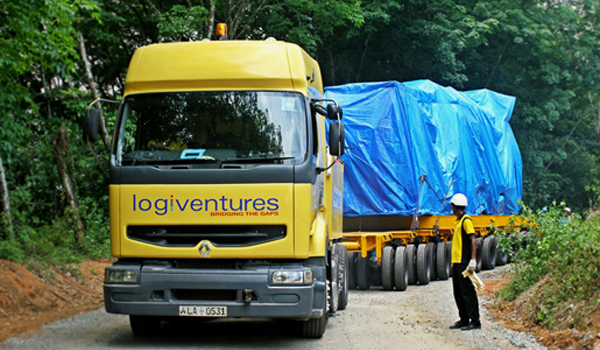 Photo Captions

1.) Standing From Left to Right; Nadeeshan Sankalpa, Amila Viraj, Chamedha Wijesinghe, Nimantha Hewagama, Thilina Gamage, Sampath Jayasinghe (Executive Operations), Janitha Jayanetti (Director), Shadil Rizan (DGM), Chinthaka Attapaththu (Manager), Savindra Weerasooriya (Asst Manager), Radley Ferdinands (Manager), Chandana Mettananda (Executive Operations), Roshan Ferdinandusz (DGM), Pramod Vithanage (Executive C&F)
2.) 108 Metric Tonne diesel engine generator transported from BOI site Horana to Port of Colombo, on a Hydraulic Multi-Axle Trailer.